6:23 AGAIN TRACKIN YA DOWN
SUPPORTO: VINYL LABEL: NITE GROOVES ARTISTA: BASSMENTAL (KERRI CHANDLER)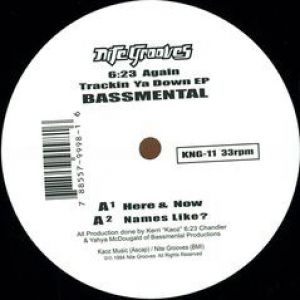 Attualmente non disponibile
Consegna a domicilio da 1 a 3 giorni (esclusi sab. e dom.) € 8,50. Oppure ritira in negozio gratis.
Categoria: Chicago
"Here & Now"
"Names Like?"
"Keep It Deep"
"Daye Revisit"
Ascolta tutto
HOUSE/CLASSIC !!!VINYL 12"!!!

NUM.CAT. KNG11

TRACK LIST:
A1: Here & Now
A2: Names Like
B1: Keep It Deep
B2: Daye Revisit

Fantastic re issue of Bassmental AKA Kerri Chandler's epic '6:23 Again Trackin Ya Down EP' on Nite Grooves.
Re mastered from DAT's and re issued in original artwork for 2014 in conjunction with Nite Grooves / King Street Sounds.