THE WAY YOU (TREGO DUBS)
SUPPORTO: VINYL LABEL: MINT CONDITION ARTISTA: ARNOLD JARVIS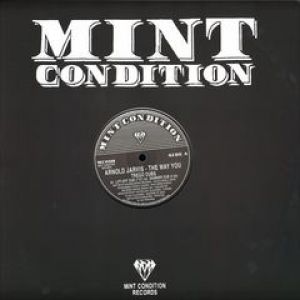 Attualmente non disponibile
Consegna da 1 a 3 giorni (esclusi sab. e dom.) € 8,50
"The Way You" (Lift-off dub)
"The Way You" (Shimmer dub)
"The Way You" (Epic dub)
"The Way You" (Atari Freak-out)
DEEP/TECH-HOUSE !!!VINYL 12"!!!

NUM.CAT. MC018

TRACK LIST:
A1: Lift-Off Dub
A2: Shimmer Dub
B1: Epic Dub
B2: Atari Freak-Out

Mint Condition - A reissue label focused on excavating the outer fringes of classic House and Techno. Unreleased mixes, classics and overlooked gems mined from the last 20+ of contemporary dance music are the order of the day. From Chicago, Detroit and New York to London and beyond, Mint Condition have got their expert digging hats on to bring you exclusive heat and those rarer than rare jams that have been on your wants list for years! Dig in....
Arnold Jarvis should be a familiar name to you if you're a fan of deep House and classic NJ Garage sounds. The unique voice behind many classics of the genre including the mighty, anthemic 'Take some time out' on NYC's cult Fourth Floor imprint from 1987 as well as lacing Satoshi Tomiie's huge 'And I loved you'. Needless to say Arnold has lived house music, he's been in the game for numerous years and has collaborated with a host of incredible artists including Kerri Chandler, Louie Vega, Dennis Ferrer and too many more to mention! Now, we flashback to London, 1994, Arnold Jarvis records a session with the UK's Ian Tregoning (aka Trego) for the label Subwoofer, a sub-label of Freetown records. Ian Tregoning is an engineer whose pedigree has seen him form an integral part of the massively influential Warriors Dance crew and man the boards for artists like Yello, Carlos Peron, S'Express, Orbital and many more. The record consisted of 4 mixes and dubs of 'The way you', a sublime deep garage groove of the highest degree featuring Tregoning's mixing desk prowess and Jarvis' soulful vocals that never saw the light of day due to some tragic events. Existing only as a white label for the last 20+ years and finding favour among the deepest house diggers 'The way you' is something of a lost gem. It's unknown how many white labels were pressed of this sleeper record but it wasn't a big quantity at all, making this a truly rare and sought after record. Luckily we at Mint Condition HQ can count Ian Tregoning as a close friend and associate and through some discussion the idea was hatched to release 'The way you' 'properly' for the first time, now in 2017. Access to Ian's original DAT's was granted, Arnold came on-board too and gave his blessing and the next thing you know we have this finely crafted, remastered and official version of this lovingly restored lost 12". A piece of mid 90's house history, made available again to a wider audience for the first time. Beautiful. Records like this don't pop up everyday at all.
'The way you' has been legitimately remastered by London's Curve Pusher from the original DAT sources especially for this release. 100% legit, licensed and released. Dug, remastered, repackaged and brought to you by the caring folks at Mint Condition!