SEXY PARTY VOL. 1
SUPPORTO: VINYL LABEL: NICE RECORDINGS ARTISTA: VARIOUS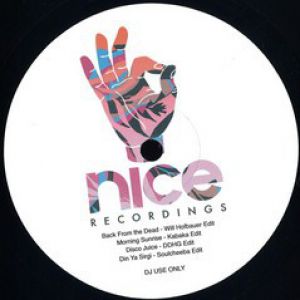 Attualmente non disponibile
Consegna da 1 a 3 giorni (esclusi sab. e dom.) € 8,50
"Back From The Dead" (Will Hofbauer edit)
"Morning Sunrise" (Kababa edit)
"Disco Juice" (DDHG edit)
"Din Ya Sirgi" (Soulcheeba edit)
DISCO/NuDISCO !!!VINYL 12"!!!

NUM.CAT. NICE001

TRACK LIST:
A1: Back From The Dead - Will Hofbauer Edit
A2: Morning Sunrise - Kabaka Edit
B1: Disco Juice - Ddhg
B2: Din Ya Surgi - Soulcheeba Edit

Prepare your ears for Sexy Party Vol. 1, a new four track EP forthcoming on Nice Recordings. Curating the finest edits of funk, disco and afro, the boys at Nice Recordings are dedicated to bringing you the freshest cuts from all over the world. Sexy Party Vol. 1 features stellar edits from the likes of Will Hofbauer, France's Kabaka and Nice Recordings' very own Soulcheeba and DDHG.