GOING NOWHERE EP
SUPPORTO: VINYL LABEL: PAREIDOLIA ARTISTA: CRISHI AKA DOTHEDU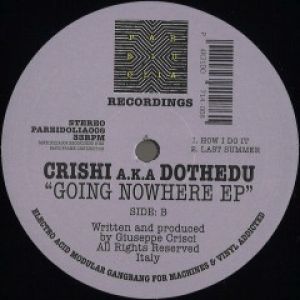 Disponibile in magazzino
Consegna a domicilio da 1 a 3 giorni (esclusi sab. e dom.) € 8,50. Oppure ritira in negozio gratis.
Categoria: Acid
"Going Nowhere" (feat Manuela Batas)
"DJ"
"How I Do It"
"Last Summer"
Ascolta tutto
DEEP/TECH-HOUSE/ELECTRO/ACID !!!VINYL 12"!!!

CAT. PAREIDOLIA008

TRACKLIST:
A1: Going Nowhere Ft. Manuela Batas
A2: Dj
B1: How I Do It
B2: Last Summer

Crishi aka Dothedu, twistes the path of Pareidolia Recordings, proposing an Ep with UK acid house sounds reminding from the great Baby Ford, to master A Guy Called Gerald and 90s London vibes.

Going Nowhere Ep represents the missing link between present and past, a nu vision...can you feel this new generation on fire? Two of the tracks contain the voice of the London based vocalist Manuela Batas, a perfectly successful feature.